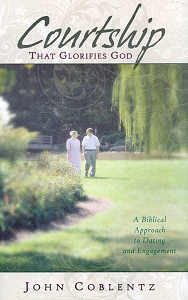 [an error occurred while processing this directive]
What do you think about:
Common dating practices?
The age dating ought to begin?
Casual dating?
Dating a variety of individuals?
Dating someone with an immoral past?
Kissing and holding hands in dating?
Dating a backslidden person?
The meaning of engagement?
The length of engagement?
This booklet tackles such questions head-on from the vantage point of Scriptural principles. Whether you agree with everything or not, you will be challenged to examine your own beliefs. And you will find many practical suggestions for building dating and engagement solidly on Christ.
Excellent for parents, youths, pastors, and youth leaders. A stimulating guide for group discussions!
This Biblical approach to dating and engagement is a reprint of chapter 3 in Christian Family Living.
46 pages -- paperback
Dimensions: 5.25" x 8.5"
ISBN: 0878136428
ISBN: 9780878136421
Copyright: 1992, 2002
Christian Light Publications
Link to this page:
http://www.anabaptistbooks.com/catalog/titles/6.shtml