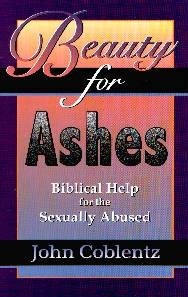 [an error occurred while processing this directive]
When Tamar was raped by her half brother, the Bible says she was left weeping and desolate. Though 3,000 years old, this story strikes a deep chord with many people, because Tamar's story is their story. Sexual abuse and its effects are a widespread, and often silent, scourge...even in the church.
Victims often feel robbed, contaminated, and terribly ashamed. They may lash out against God and have trouble getting along with others. They may not be able to forget or forgive, much less build meaningful relationships. Many suffer deeply, often alone. Is there a way out? Yes!
After explaining why sexual abuse can be so devasting, Beauty for Ashes leads readers through God's Word to healing and hope. Clear, honest, and practical, this book will be appreciated by pastors, by counselors, and most especially, by those who have known the anguish of Tamar.
80 pages -- paperback
Dimensions: 5.25" x 8.25"
ISBN: 0878135847
ISBN: 9780878135844
Copyright: 1999
Christian Light Publications
Link to this page:
http://www.anabaptistbooks.com/catalog/titles/171.shtml