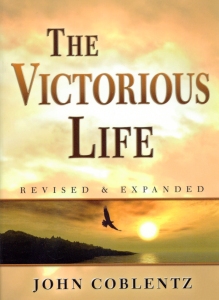 [an error occurred while processing this directive]
Yes, you can live in daily victory over sin. This booklet tells you how. Instead of offering easy solutions, however, it deals with root issues. It shows you how to deal thoroughly with sin, and how to renounce the self-life in order to experience Christ as your life, your strength, and your victory. It also helps you understand spiritual battle -- the tactics of the enemy, the nature of temptation, and God's armor for victorious living.
This book is ideal for new believers or those struggling in defeat.
---
Have you struggled in defeat as a Christian? Does some temptation constatnly haunt you? Are you living in bondage to fear? pride? lust? self-pity? anger?
The psalmist cried, "Order my steps in they word: and let not any iniquity have dominion over me" (Psalm 119:133).
Is that your prayer? If it is, read on. In this revised and expanded edition of The Victorious Life, you will find practical, step-by-step guidance from God's Word, guidance that will show you how to live in victory over sin.
The steps to victory are not always easy. But they are right. They are backed by the God of Heaven. They are backed by all the resources of Heaven. And they are worth every difficulty because they lead us to Heaven.
"He that overcometh shall inherit all things; and I will be his God, and he shall be my son" (Revelation 21:7).
127 pages -- paperback
Dimensions: 5" x 7"
ISBN: 9780878136520
Copyright: 1992
Revised and expanded: 2007
Christian Light Publications
Read the entire original edition online!
Link to this page:
http://www.anabaptistbooks.com/catalog/titles/49.shtml