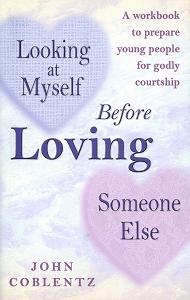 [an error occurred while processing this directive]
The grim wreckage of failed marriages is all too common in today's culture. Marriages fail because people fail. Marriages often fail because people have not been prepared for either courtship or marriage.
The foundation of an enduring marriage is Christian character. It is not enough to seriously want the "right one." First, one must be the right kind of person.
Looking at Myself before Loving Someone Else was written to help youth prepare for courtship, to challenge them to develop personal godly character before courtship, before seeking a life companion.
This workbook for youth and parents will help prepare young people for courtship and lifelong, joyful marriages that glorify God.
63 pages -- paperback
Dimensions: 5.25" x 8.25"
ISBN: 9780878135851
Copyright: 2002
Christian Light Publications
Link to this page:
http://www.anabaptistbooks.com/catalog/titles/313.shtml