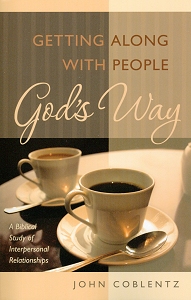 Does God care about our relationships?
We all have relationships -- but what kind? Are they satisfying or empty? Are they superficial or deep? Do we generally get along with people, or is there a trail of conflict in our past? Should we get along with everyone? Does it matter?
More importantly, do our relationships matter to God? Does He care when a husband and wife turn their backs on each other? When children sob in their bedrooms? When parents lie sleepless at night because of wayward children? When teenagers stomp out of the house? When in-laws feel left out?
Does it matter to God when church business meetings get tense? Is He concerned about how we talk to each other in the body of Christ? Or how we talk about each other?
God's Word says how we get along with one another matters very much to God. And His Word includes instructions telling us how to build relationships and how to resolve problems.
Inspirational and practical, this Biblical study of interpersonal relationships points us to the life and teachings of Jesus who modeled perfectly the way of peace. Following Him, we have what we need to restore, build, and maintain healthy relationships.
219 pages -- paperback
Dimensions: 5.25" x 8.25"
ISBN: 9780878136612
Copyright: 2008
Christian Light Publications
Link to this page:
http://www.anabaptistbooks.com/catalog/titles/568.shtml