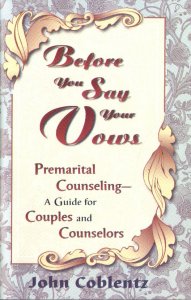 [an error occurred while processing this directive]
This guide for couples and counselors helps individuals prepare for marriage through premarital counseling. It helps partners face who they are and guides them toward what God wants them to be. And it shows the Biblical principles that govern closeness, communication, and lifelong commitment.
Brief introductions in each section lead to a series of probing, thought-provoking questions intended to guide couples to look honestly at issues fundamental to marriage. The answers may be written right in the book.
While Before You Say Your Vows was designed for premarital counseling, it can also be useful for individual self-examination or as a church-wide course for married couples working at strengthening their marriages.
58 pages -- paperback booklet
Dimensions: 5.25" x 8.25"
ISBN: 9780878135967
Copyright: 2001
Christian Light Publications
Link to this page:
http://www.anabaptistbooks.com/catalog/titles/282.shtml