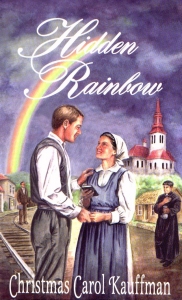 [an error occurred while processing this directive]
A true story about a forbidden New Testament that shattered the calm of a Yugoslavian village. John and Anna Olesh, through a simple act of kindness, faced undreamed-of turmoil and hardships. They and their family learned that when God moves, no government, no organized religion, can stand in His way.
---
Hidden Rainbow is not an imaginary story, nor one dug out of antiquity. It is an actual story about real people, the Olesh family of a solid Catholic community in Yugoslavia, and their encounter with the New Testament in the early twentieth century.
Through the eyes of John and Anna Olesh the reader is taken into the intimate life of a Yugoslavian village. John is severely censured for seeking economic opportunity in America as he leaves his family behind. Upon his return the family is visited by an evangelical missionary for which they are also censured. Though they are forbidden to communicate with the missionary, they cannot forget his radiant personality and his message.
While John is away from home Anna fearfully accepts a "forbidden" New Testament. The reader shares in the consequences and feels the deep loyalties of tradition hanging in the balance, and shares finally in the doubts and triumphs as John and Anna find the power of God.
For youth and adults seeking peace with God, or those interested in helping others find peace, this book will have special appeal.
410 pages -- paperback
Dimensions: 4.25" x 7"
ISBN: 0878139583
ISBN: 9780878139583
Copyright: 1957, Published 1997
Christian Light Publications
Link to this page:
http://www.anabaptistbooks.com/catalog/titles/32.shtml