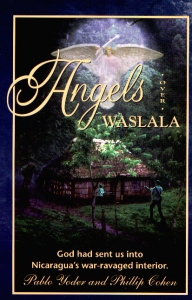 [an error occurred while processing this directive]
Captivating! A true story you will never forget
After 13 armed robberies, 4 burglaries, and 3 letters demanding money, some missionaries would return home, but not the small group who went to Waslala, Nicaragua, to start a new church.
Angels Over Waslala will draw you into the missionaries' tight-knit circle with its graphic portrayal of their experiences -- God's call, His leading, and His protection; their fears, their terrifying encounters, their victories and reassurances.
Reading this story by Pablo Yoder, you will rejoice with the missionaries in the responses of their Nica friends who have become brothers and sisters in the growing church, now made up of many more Nicaraguans than North Americans. Your faith will be strengthened as you realize anew the power of the Gospel to overcome powers of evil.
From the back cover
Tim and Rosa were headed for bed when they heard feet shuffling outside. Tim opened the door and shined his flashlight into the faces of two men, one carrying an automatic rifle.
A quiet but firm voice spoke, "¡Venga! Apague el foco." (Come here! Turn off the flashlight.)
Meanwhile, Rosa bolted for their little lean-to outhouse and shower combination. There she knelt and prayed.
Tim stepped outside. He was trembling, but God kept him from falling apart. He noticed the robbers were much more nervous than he was.
"Give me your flashlight," a voice ordered.
Tim handed them his flashlight.
"Reales." (money) "We want $1,500."
"I don't have dollars," Tim kindly told them. "I don't carry much money." His deep voice sounded calm, but he was afraid.
From the little outbuilding Rosa could feel the tenseness in Tim's voice, but couldn't make out his words.
"We don't believe you," answered the robber, in an unusually calm tone. "Go get your dollars."
"I don't lie because I'm a Christian." Tim replied. "Search the house if you like."
As Rosa knelt in the shower and prayed, she wondered if Tim was about to lose his life.
Read the full chapter!
250 pages -- paperback
Dimensions: 6" x 9"
ISBN: 9780878139699
Copyright: 2008
Harbor Lights
Link to this page:
http://www.anabaptistbooks.com/catalog/titles/78.shtml