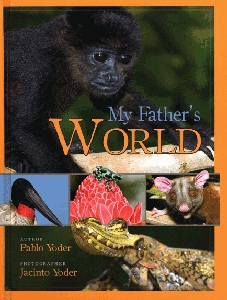 This children's nature book full of colorful jungle photos from Latin America should entertain and inform young and old readers alike.
From the Introduction:
"Stand to your feet, my child. Look around you. do you see my rivers bubbling toward my ocean? Do you observe my trees and my grasses waving in my wind? Do you enjoy my dainty orchids and my colorful flowers sprinkled over my gardens? Have you noticed my charming green moss? Come watch my butterflies and my birds flying around in my world. Catch a glimpse of my monkeys scrambling through my trees. Be happy with what you see. Though they are mine, I also made them for you. Because when you see the world I made, in a special way, you see me.
"Do you remember what I wrote to you in my special Book? I told you that when you see what I made, you learn about me."
The heavens declare the glory of God; and the firmament sheweth his handiwork. -- Psalm 19:1
"My dear child, you can know about me, your Father, by seeing what I made!"
You are one of God's special children. Today, through this book, you are going to learn about Him by seeing the world He made. You will marvel as you observe His creativity. You will be awed as you sense His power. You will be surprised as you realize His intelligence. You will be amazed as you glimpse His knack for beauty. You will be blessed as you feel His tender love. And you will even be tickled as you see His sense of humor.
---
Please note: This book is different from the bigger book published by Christian Light Publications: The Work of Thy Fingers.
150 pages -- hardcover
Dimensions: 8.75" x 10.25"
ISBN: 9781936208012
Copyright: 2010
TGS International (Christian Aid Ministries)
Link to this page:
http://www.anabaptistbooks.com/catalog/titles/627.shtml