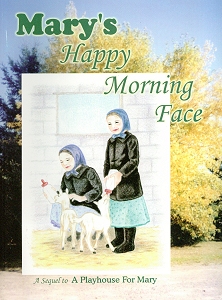 [an error occurred while processing this directive]
"Why do you look so sad today?"
That was the question Joseph asked the butler and the baker one morning in prison. All three of them had plenty of reason to look sad. Who would look happy in jail?
But Joseph was wearing his usual "happy morning face."
Using this Bible story, Father teaches the Weber children that we should not let our troubles keep us from trusting God.
It isn't always easy for Mary to have a "happy morning face." Many changes come to the Weber family when Father starts having back trouble and cannot keep on with his cementing job.
Mary learns that changes bring new, interesting experiences. New chores, new ways to help her family, new four-footed playmates -- all these take the place of the cherished playhouse you read about in the first Mary book: A Playhouse for Mary.
166 pages -- paperback
Dimensions: 6.5" x 8.75"
ISBN: 0968836992
Copyright: 2005
Vineyard Publications
Link to this page:
http://www.anabaptistbooks.com/catalog/titles/597.shtml