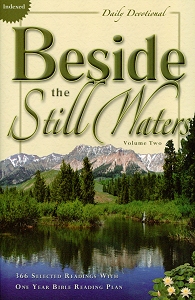 [an error occurred while processing this directive]
366 Selected Readings With One Year Bible Reading Plan
"You are what you eat" is a good old saying. Eating carrots will not turn a man into a carrot, but it is impossible to be physically healthy without a healthy diet.
The Christian's spiritual health is likewise dependent on a healthy spiritual diet. It is impossible to stay healthy as a Christian while feeding on the junk food of the world. If you would avoid spiritual ill health, you must feed your mind on the things of God every day.
For that reason, I am excited to introduce this second volume of 366 selected Beside the Still Waters devotional readings. I trust this book will help you maintain a healthy habit of daily coming into the presence of God and feeding your soul on Him. May the scraps of the world seem dull and tasteless beside the delicacies of God's Word!
As in Volume One, writers from a variety of Amish and Mennonite churches from the United States, Canada, and other countries submitted the material that is used in this book.
This particular edition is indexed by contributor, Scripture passage, and subject.
389 pages -- paperback
Dimensions: 5.5" x 8.5"
ISBN: 1932676066
Copyright: 2006
Still Waters Ministries, Vision Publishers
Link to this page:
http://www.anabaptistbooks.com/catalog/titles/575.shtml