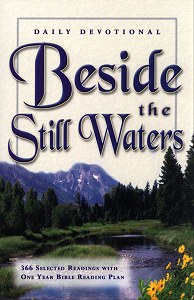 [an error occurred while processing this directive]
366 Selected Readings With One Year Bible Reading Plan
We must communicate with God if we are to have a good relationship with Him. We cannot expect to grow close to Him if we are unwilling to spend time with Him. But how can we communicate with God?
God has made His side of the conversation available to us through His Word, the Bible, and through His indwelling Holy Spirit. However, before we can hear Him, we must listen. A daily time of listening to God by meditating on His Word is essential to the victorious Christian life. We complete our part of the conversation by speaking to Him in prayer.
This daily devotional book is presented with the hope of helping the reader come daily into the presence of God and to communicate with Him there.
The writings in this book were selected from the first three years of Beside the Still Waters (1996-1998), a bi-monthly devotional booklet published by Still Waters Ministries.
Writers from a variety of Amish and Mennonite churches from the United States, Canada, and other countries submitted the material that is used in this book -- as well as in Volume Two.
370 pages -- paperback
Dimensions: 5.5" x 8.5"
ISBN: 0971705445
Copyright: 2003, 2004
Still Waters Ministries, Vision Publishers
Link to this page:
http://www.anabaptistbooks.com/catalog/titles/426.shtml