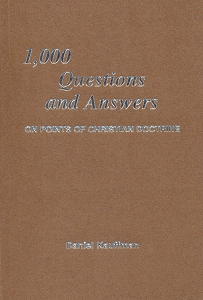 [an error occurred while processing this directive]
One Thousand Questions and Answers
was first published in weekly installments in the
Gospel Witness
in 1907. The messages were appreciated so much that a number of people wrote the publishers of that paper, asking that the articles be published in book form.
In response to these requests the book was published in 1908. It enjoyed a large sale at once and to meet the continued demand for it reprintings have been made from time to time.
Continued interest in this book has led to this new revised edition.
These are among the subjects addressed:
salvation
repentance
godly sorrow
justification
consecration
adoption
sanctification
the holy kiss
woman's devotional covering
obedience
self-denial
christian service
restrictions
nonconformity to the world
covetousness
pleasure
dress
nonresistance
swearing of oaths
life insurance
righteousness
hell
the great commission
Very similar to 1001 Questions and Answers on the Christian Life, a small hardcover version published by Pathway Publishers.
154 pages -- paperback
Dimensions: 4" x 6"
ISBN: 0962764329
Copyright: 1992 (edited and expanded by GPP)
Green Pastures Press
Link to this page:
http://www.anabaptistbooks.com/catalog/titles/498.shtml