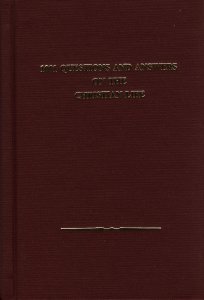 [an error occurred while processing this directive]
"What do the Amish believe doctrinally?" "What are the Scriptural reasons for Amish faith and practice?"
These and similar questions have been frequently asked in recent years. The need has long been felt for a concise little booklet to help answer these questions, both for the inquirer and for the Amish themselves.
The book that came nearest to filling this need was 1000 Questions and Answers on Points of Christian Doctrine, written in 1907 by Daniel Kauffman, a Mennonite bishop and author. This book was much appreciated and used by the Amish, but is no longer in print. This present volume is based largely upon Kauffman's work, but it has been revised and enlarged to deal more specifically with current issues, and with Bible doctrines as they are understood by the Amish. Nearly 80% of Kauffman's questions have been retained, and considerable new material added.
The number 1001 in the title merely indicates that this edition has been enlarged and contains more than the 1000 questions and answers of the previous book. The actual number of questions in this book is well over 1100.
205 pages -- hardcover
Dimensions: 4.25" x 6.25"
ISBN:
Copyright: 1992, Reprinted 2007
Pathway Publishers
Link to this page:
http://www.anabaptistbooks.com/catalog/titles/322.shtml