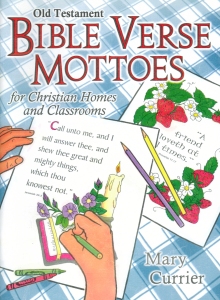 [an error occurred while processing this directive]
Here is another activity book, this one consisting of decorative Bible verses that can be colored and used as mottoes, posters, greeting cards, quilt patterns, or scrapbooks. May these verses provide encouragement, promote memorization, and produce godly living.
Posters are perforated for easy removal. Verses may be copied, enlarged, or reduced as desired. A few pages have been reduced for your convenience.
62 sheets -- paperback
Dimensions: 8.25" x 11"
ISBN: 0878136371
ISBN: 9780878136377
Copyright: 2006
Christian Light Publications
Link to this page:
http://www.anabaptistbooks.com/catalog/titles/486.shtml