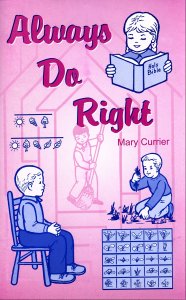 [an error occurred while processing this directive]
This little book reminds children to always do right.
We want our children to develop character, to become sensitive about right and wrong choices, to want to please their parents and God.
Sometimes they disappoint us. But we keep working with them, praying for them, and providing activities that reinforce our training.
This book contains such activities, reminding our children to always do right.
52 pages -- paperback
Dimensions: 5.5" x 8.5"
ISBN: 9780878135936
Copyright: 2002
Christian Light Publications
Link to this page:
http://www.anabaptistbooks.com/catalog/titles/307.shtml