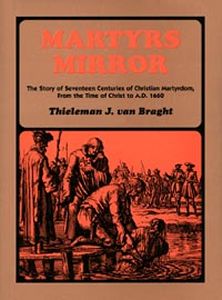 [an error occurred while processing this directive]
The true accounts of Christians baptized upon confession of faith who died for their faith from the time of Christ to A.D. 1660. Includes an index of Anabaptists persecuted or martyred 1525-1660.
Excerpts
1141 pages -- Herald Press
ISBN: 083611390X
ISBN: 9780836113907
Copyright: 1938?

Dimensions: 10.6" x 8.1"
Link to this page:
http://www.anabaptistbooks.com/catalog/titles/82.shtml