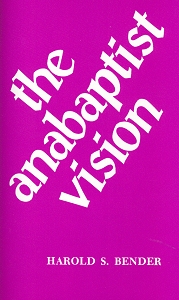 [an error occurred while processing this directive]
Given as a presidential address before the American Society of Church History in 1943, it has become a classic essay.
In it, Harold S. Bender defines the spirit and purposes of the original Anabaptists. Three major points of emphasis are: the transformation of the entire way of life of the individual to the teachings and example of Christ, voluntary church membership based upon conversion and commitment to holy living, and Christian love and nonresistance applied to all human relationships.
The Anabaptist Vision has appeared in Church History, The Mennonite Quarterly Review, and as a chapter in the book, The Recovery of the Anabaptist Vision.
Ernst Correll has said, "The Anabaptist Vision was a fresh interpretation, a brilliant synthesis, which since has been recognized as a classic statement to be reckoned with for years to come."
This treatise begins by quoting Rufus M. Jones (Studies in Mystical Religion, 369, London, 1909):
"Judged by the reception it met at the hands of those in power, both in Church and State, equally in Roman Catholic and in Protestant countries, the Anabaptist movement was one of the most tragic in the history of Christianity; but, judged by the principles, which were put into play by the men who bore this reproachful nickname, it must be pronounced one of the most momentous and significant understakings in man's eventful religious struggle after the truth. It gathered up the gains of earlier movements, it is the spiritual soil out of which all nonconformist sects have sprung, and it is the first plain announcement in modern history of a programme for a new type of Christian society which the modern world, especially in America and England, has been slowly realizing -- an absolutely free and independent religious society, and a State in which every man counts as a man, and has his share in shaping both Church and State."
44 pages -- paperback
Dimensions: 4.25" x 7"
ISBN: 0836113055
ISBN: 9780836113051
Copyright: 1944
Herald Press
Link to this page:
http://www.anabaptistbooks.com/catalog/titles/71.shtml