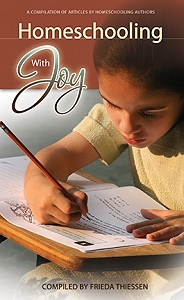 Serious home educators spend many hours of diligent effort to make their homeschools a success. They do it for the children. They do it for God. They plan; they prepare; they coach and teach; they pray; they struggle. And on top of that they still have all their other roles: bread-winner, homemaker, husband, wife, and more.
It's no wonder homeschooling sometimes becomes overwhelming. The once lofty goals grow dim and the focus turns to survival. If that's where you are, or what you want to avoid, Homeschooling With Joy offers encouragement and practical help.
Homeschooling With Joy is a collection of articles by home educators who have learned valuable lessons that can benefit your life and your homeschool. Yes, a father can be more than a bumbling addition to home education. He can provide leadership and nurture, help keep his wife's load manageable, and guide the fulfillment of the Great Commission in his homeschool. No, a mother doesn't have to be an exhausted martyr. She can manage the household, see that everyone is adequately fed and clothed, younger children cared for, and the students educated, all without neglecting her marriage.
This inspiring book provides answers to the difficult challenges of homeschooling, so that with the work, there is joy!
Contents
Preface
Homeschool Is...

FOR FATHERS

Daddy Helps
Dad's Role in Homeschooling
Getting It Done vs. Doing It Right
Homeschool Burnout and Stress Management

THE MOTHER'S HEART

A Prayer for Serenity
Respecting My Husband's Involvement
Dealing With Frustrations
Preparing Our Arrows
The Homeschooled Parent

MOTHER AS A TEACHER

For These I Pray
Lighting Candles
Here a Little, and There a Little
Exploring in the Corners
Stop! This Is a Teachable Moment

OUR CHILDREN

Mother Is the Key
What Do I Do With My Toddler?
Keeping My Son's Respect
A Friendly Word
Teaching High School Students
Returning the Graduate to His Father

THE HOME

Weaving Life and Learning
The Ornament of an Orderly Home
We Live Here
Homemaking with Joy
A Dinner of Herbs
Children and Chores
How We Learned to Use a Schedule

REGAINING JOY

My Plans and God's
Blessings in Spite of a Rough Start
Overwhelmed?
Weathering the Midwinter Storm
When the Teacher is Down
It Is Never Too Late

REACHING OUT

Our House Is Yours
Our Homes -- A Mission in the Community
Teaching Your Children Hospitality
On Priorities and Bread Crumbs
Entering the Mission Field
201 pages -- paperback
Dimensions: 5.25" x 8.25"
ISBN: 9780878136742
Copyright: 2010
Christian Light Publications
Link to this page:
http://www.anabaptistbooks.com/catalog/titles/625.shtml