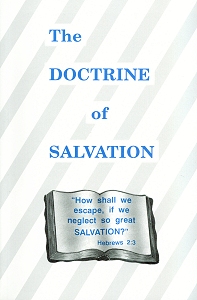 [an error occurred while processing this directive]
The writer begins with the depravity of fallen man and progresses step by step through repentance, faith, pardon, justification, adoption, regeneration, sanctification, growth in grace, and holiness. He concludes with the completeness and security of the child of God in Christ Jesus.
For the serious Bible student who is searching for the hidden, precious, and deep things of God.
Table of Contents
Depravity
Repentance
Faith
Faith Imputed
Pardon and Forgiveness
Justification by Faith
Justification by Faith Only
Adoption
The Witness of the Spirit
Regeneration and Sanctification
Growth in Grace
Holiness
The Two Agencies
128 pages -- paperback
Dimensions: 5.5" x 8.25"
ISBN: 0739902210
ISBN: 9780739902219
Copyright: 1993
Rod and Staff Publishers
Link to this page:
http://www.anabaptistbooks.com/catalog/titles/604.shtml