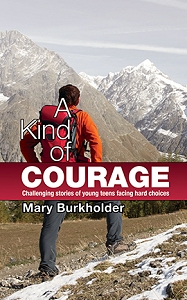 [an error occurred while processing this directive]
Travis tensed as he heard his cousins' dirty talk. Again.
Kate stayed awkwardly in the background while her sister Amy laughed and flitted easily from person to person. It just isn't fair, Kate thought.
Haley's little brothers were so aggravating. "I wish you'd try a little harder to get along with the boys," said Haley's mom.
It was exciting to feel popular and important. But Nicole's new friends expected her to keep on slandering the teacher.
"What you need is a boyfriend," Emily said. "And I can tell you how to get one...." She leaned in closer, smiling mischievously.
Dad's always on me about something, Tony thought, scowling.
---
These stories are about challenges, struggles, and tough choices facing young teens. You may recognize some of them...in your own life.
A Kind of Courage will help young people make choices that will strengthen them spiritually and increase their desire to please God.
123 pages -- paperback
Dimensions: 5.25" x 8.25"
ISBN: 9780878136674
Copyright: 2009
Christian Light Publications
Link to this page:
http://www.anabaptistbooks.com/catalog/titles/602.shtml