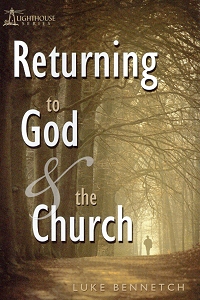 [an error occurred while processing this directive]
a Lighthouse Series booklet
Finding our way back to God and the church is a difficult road. Sin separates us from God and in serious cases may bring church discipline. We may find ourselves confused or bitter about our experience, and distant from the brotherhood. We may feel hurt, betrayed, or misunderstood by the people around us.
Amid all these feelings, we long for a restored relationship. We wish we could return again and be part of the fellowship. But we wonder:
Do people really care about me?
Will they forgive me and accept me again?
Is it possible for me to return to God and the church?
Our God is a loving God. He forgives sinners who come to Christ and confess their sins. The church also forgives and restores the penitent sinner. Regardless of the seriousness of our sin, there is healing and restoration. There is a way back to God and the church. The journey may seem long and lonely. It is often difficult and frustrating, but it is well worth the effort!
25 pages -- paperback
Dimensions: 4" x 6"
ISBN: 9780878136582
Copyright: 2008
Christian Light Publications
Link to this page:
http://www.anabaptistbooks.com/catalog/titles/595.shtml