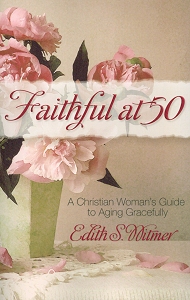 [an error occurred while processing this directive]
What do you expect as you are nearing fifty? Are you wistfully looking over your shoulder at what used to be? Or are you looking forward with anticipation? The author of this book wants you to enter mid-life with joyful expectation instead of apprehension. Rather than mourning the loss of youthful vigor, she encourages women to face and accept the inevitable changes that come with years.
Faithful at Fifty speaks to older mothers, mothers-in-law, grandmothers, single women -- to any woman adapting to the changing roles that come with aging. You'll be inspired by the testimonies of women who have experienced God's grace for aging gracefully. Even though you're older, in the sight of God you can be a beautiful flower in full bloom.
Readers older or younger than fifty, will also be challenged to treasure their relationship with Jesus, and to faithfully order their activities to enhance that relationship. God has special surprises in store for those who walk with Him. Faithful at Fifty will help you find them.
178 pages -- paperback
Dimensions: 5.25" x 8.25"
ISBN: 9780878136629
Copyright: 2008
Christian Light Publications
Link to this page:
http://www.anabaptistbooks.com/catalog/titles/577.shtml