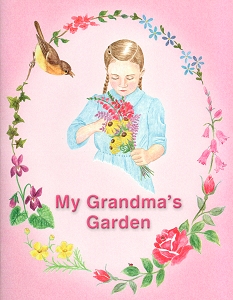 This young child's book features color pictures and poetry about a girl and her grandma's garden. It tells about different kinds of flowers. And has a lesson relating to weeds and flowers and teaching about God wants His children to be.
I love my grandma's garden!
Won't you come to see
The many blooming flowers,
Which are best of friends with me?

It's fun in grandma's garden, for
Its beauty never ends.
And I'm so glad God took the time
To make my flower friends!
40 pages -- paperback
Dimensions: 8.25" x 10.5"
ISBN: 0739924028
ISBN: 9780739924020
Copyright: 2008
Rod and Staff Publishers
Link to this page:
http://www.anabaptistbooks.com/catalog/titles/557.shtml