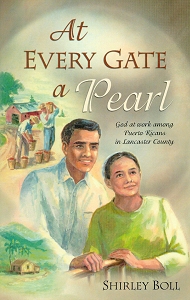 [an error occurred while processing this directive]
Luis and Rosa were searching for better things. Their quest led them to a new country, a new family, and a new faith. Whether the gates before them opened or closed, they discovered God's treasures as they trusted and followed Him.
This true story also portrays the effective influence of a godly employer who refused to exploit his migrant workers. His compassion and provision for their material and spiritual needs resulted in the birth and growth of the Hispanic church in Lancaster, Pennsylvania in the 1940's.
131 pages -- paperback
Dimensions: 5.25" x 8.25"
ISBN: 9780878139682
Copyright: 1986, Revised 2008
Christian Light Publications
Link to this page:
http://www.anabaptistbooks.com/catalog/titles/554.shtml