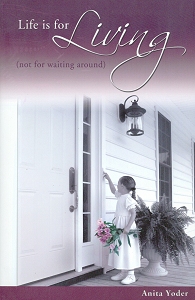 [an error occurred while processing this directive]
A single woman's discovery of abundant life. When you find yourself without a romance story, has God cheated you? If you think abundant life will come only after you're married, this book is for you. Or if you know God is generous but you can't see His gifts to you, these chapters will open your eyes.
Set in the charm of Ireland's countryside and coastline, and sprinkled with real stories, this book shows single ladies how to live with

Purpose
Passion
Promise
You will identify with these stories, questions, and dreams and realize that you are not alone. You will feel new energy to live decisively and purposefully instead of merely putting in time.
After all, life is for living, not for waiting around!
244 pages -- paperback
Dimensions: 5.5" x 8.5"
ISBN: 9780940883215
Copyright: 2008
Self-published
Link to this page:
http://www.anabaptistbooks.com/catalog/titles/551.shtml