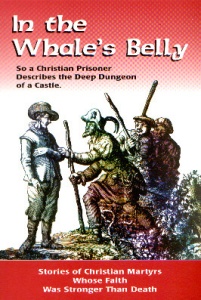 [an error occurred while processing this directive]
What does life mean?
How can I find God?
What does God want of me?
Have you ever struggled with such questions?
In the Whale's Belly is a book of stories about men and women who struggled with the great questions of life. They found their answers in loving and obeying Jesus Christ.
This book of inspiring stories retold from the Martyrs Mirror includes 10 original engravings from the Martyrs Mirror not printed in modern editions and interesting engravings from other old books.
127 pages -- paperback
Dimensions: 5.3" x 8"
ISBN: 0878135138
ISBN: 9780878135134
Copyright: 1981
Christian Light Publications
Link to this page:
http://www.anabaptistbooks.com/catalog/titles/53.shtml