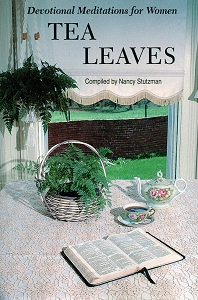 [an error occurred while processing this directive]
A book of devotionals, prayers, and poems by Christian sisters, most of whom are missionaries.
The Christian woman faces many pressures as a homemaker. The load of cooking, cleaning, clothing, and caring for little ones (and big ones) sometimes seems mountains high. She reaches her limit. And still she must go on. The worldly woman, sleek and professional, glides by with a condescending smile -- there's more to life for her than bawling babies. Under these pressures, and sometimes as a direct result of them, the heart of a Christian woman needs quiet time.
This book undersands women. It is fully acquainted with mothers, children, virtue, failure, pressures, grief, and commitment. And every page offers a pause for God's woman. It takes but a few moments to steep God's Word and a few spiced comments in the quiet meditations of the heart. This book is not intended to be gulped in one setting, but to be sipped a cupful at a time.
Busy? Pressured? Tired and thirty? Pull up a chair and meet with twelve of God's women heart to heart. You will find your spirit refreshed with every cup of Tea Leaves.
These inspiring devotionals for women are grouped under such headings as:

"My Spirit Hath Rejoiced in God My Saviour"
"Her Children Arise Up and Call Her Blessed"
"We Are Laborers Together With God"
"He Hath Smitten and He Will Bind Us Up"
"Here Am I, Send Me"
350 pages -- paperback
Dimensions: 5.4" x 8.2"
ISBN: 0878135316
ISBN: 9780878135318
Copyright: 1990
Christian Light Publications
Link to this page:
http://www.anabaptistbooks.com/catalog/titles/51.shtml