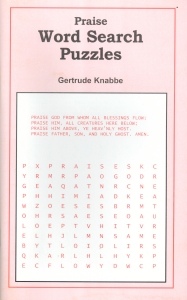 [an error occurred while processing this directive]
Are you looking for ways to stimulate your children's interest in the Bible? Do you need something to enrich their learning? Or perhaps you want to brighten the outlook of a shut-in or a lonely senior citizen. You may find the 100 puzzles in this booklet just what you are looking for.
In addition to hidden words, there is a message from God's Word. Some may enjoy the challenge of memorizing selected verses with their references. The chronological order in which verses are presented simplifies finding them in the Bible.
Puzzles like these can provide wholesome activity and arouse increasing interest in God's Word for young and old.
116 pages -- paperback
Dimensions: 5.4" x 8.5"
ISBN: 9780878136346
Copyright: 2006
Christian Light Publications
Link to this page:
http://www.anabaptistbooks.com/catalog/titles/496.shtml