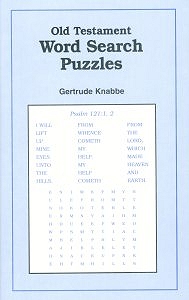 [an error occurred while processing this directive]
116 puzzles for children and adults. Answers included.
Affordable for schools, rest homes, Sunday Schools, and other group settings. So if you are looking for ways to increase your children's interest in the Bible or to brighten the outlook for a lonely senior citizen, order this inexpensive set!
Old Testament
56 puzzles
67 pages -- paperback
Dimensions: 5.4" x 8.5"
ISBN: 9780878135608
Copyright: 1995
Christian Light Publications
New Testament
60 puzzles
71 pages -- paperback
Dimensions: 5.4" x 8.5"
ISBN: 0878135618
ISBN: 9780878135615
Copyright: 1997
Christian Light Publications
Link to this page:
http://www.anabaptistbooks.com/catalog/titles/34.shtml