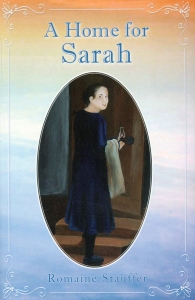 [an error occurred while processing this directive]
Sarah was the oldest of Amos and Amanda Wenger's six children. Sarah's father worked hard to provide for the family while her mother lovingly cared for the children. They were part of the Old Order Stauffer Mennonite congregation who worshiped at the Pike Mennonite Church near Hinkletown, Pennsylvania.
Sarah was too young to understand how the Great Depression and adverse circumstances had combined to impoverish her family. She took for granted the happiness and security she enjoyed in her home. Then when she was ten years old, tragedy struck. Her home was suddenly shattered and life forever changed.
For years, Sarah was cut off from her family. She moved from place to place, always longing for security and a home where she belonged. Every time she thought her desire was within reach, she was once more forced to move on. During her teen years, Wold War II spread around the globe. In a world that was so insecure, how could she even hope for security? Did she ever find it?
300 pages -- paperback
Dimensions: 5.5" x 8.5"
ISBN: 1932864784
ISBN: 9781932864786
Copyright: 2006
Masthof Press
Link to this page:
http://www.anabaptistbooks.com/catalog/titles/494.shtml