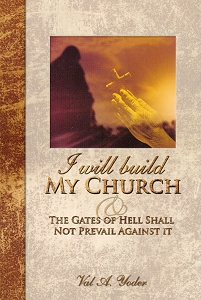 [an error occurred while processing this directive]
Temporarily
discontinued
for review
from the Preface....
It has been a burden of my heart for some years to see the Church of Jesus Christ suffer such infamy and derision in the local setting. There are innumerable books out which glorify and adulate over the universal church. Many songs have been written to exalt the church per se. These attempts should not be discouraged and are certainly timely in our fallen world. Yet, the local church, so often, is seen in almost direct contrast to that honor given to the universal church.
As you read these pages, keep in mind that if your local church were the only one on planet earth at the second coming of the Lord, the Bridegroom would still split the eastern sky to claim your church as His Bride.
from the Conclusion....
We have every reason to be optimistic that animated churches with the spirit and enthusiasm of the early church will once again "salt" this country. It is my conviction that there is a deep pulsating desire in America's churches for something different than the passive "sideliner" which most churches have become. These churches will never be the mega-churches that the media will espouse. They will, in many cases, come out of the fractured present-day structures of denominations. They will be diversified in ways parallel to the diversity of the families that attend your local church. They will agree on the doctrines outlined in Ephesians 4 (Church, Holy Spirit, Hope, Lord, Faith, Baptism, God and Father) but vary in practical applications of them. They will be powerful. They will bring conviction. They will do damage to the gates of hell. They will rescue those that are caught within it's hold. May the triumphant church be seen as alive and well!
122 pages -- paperback
Dimensions: 6" x 9"
ISBN:
Copyright: 2006
Kitchi Blessings Ministries
Link to this page:
http://www.anabaptistbooks.com/catalog/titles/492.shtml