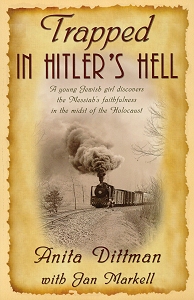 [an error occurred while processing this directive]
Anita Dittman was just a little girl when the winds of Hitler and Nazism began to blow through Germany. By the time she was twelve, the war had begun.
Abandoned by her father when he realized the price of being associated with a Jewish wife and family, Anita and her mother were ultimately left to fend for themselves. Anita's teenage years are spent desperately fighting for survival yet learning to trust in the One she discovered would not leave her.
Suddenly Hella was racing down the street to meet me as I entered our block, panic and fear written all over her face. Her body shook visibly and her face was contorted because she was about to break into tears. Curious people stared at Hella, but they kept moving, afraid to get involved. I sensed even before she spoke that disaster had struck our home.
"Mother's been taken!" she gasped.
Shocking and disturbing, yet hopeful and inspiring -- An incredible story you'll never forget of a young Jewish girl who discovers the Messiah's faithfulness in the midst of the Holocaust!
185 pages -- paperback
Dimensions: 5.5" x 8.5"
ISBN: 0972151281
ISBN: 9780972151283
Copyright: 2005
Lighthouse Trails Publishing
Link to this page:
http://www.anabaptistbooks.com/catalog/titles/471.shtml