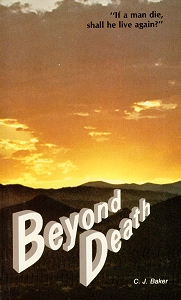 [an error occurred while processing this directive]
Sound Biblical answers to questions such as:
Is death the final state of man?
What happens to man's spirit when it leaves the body?
Is the spirit conscious after death?
Does one's life affect the state of the soul after death?
Will man receive a new body? When?
Where are the righteous dead? The wicked dead? What and where are Sheol? Hades? Paradise?
An attractive fold-out chart in the front of the book enables the reader to grasp the order and relationships of the various future events as the Word of God presents them.
99 pages -- paperback
Dimensions: 4.25" x 7"
ISBN: 0878139532
Copyright: 1977
Christian Light Publications
Link to this page:
http://www.anabaptistbooks.com/catalog/titles/44.shtml