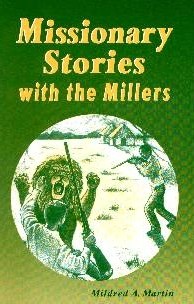 [an error occurred while processing this directive]
Experience thrilling adventure as the Christian missionaries on these pages meet witch doctors, disease, drought, hate-filled guerrillas, a Bible thief, and killer cats.
Best of all, each one of these stories is based on an actual happening from the lives of real people. Follow these missionaries as they respond to God's call. Some of them miraculously escape danger, while others face martyrdom for Christ -- but the soldiers of the Cross always win in the end!
205 pages -- paperback
Dimensions: 5.4" x 8.5"
ISBN: 0962764345
ISBN: 9780962764349
Copyright: 1993
Green Pastures Press
Link to this page:
http://www.anabaptistbooks.com/catalog/titles/37.shtml