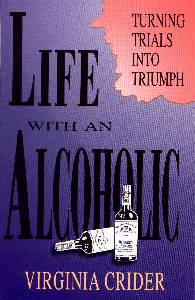 [an error occurred while processing this directive]
"Can the wife of an alcoholic know happiness while coping with the abuse, lies, and indignities accompanying her husband's addiction?"
Baring her heart, the author describes the frustrations of goals, interests, and ideals that are worlds apart from her husband's. She portrays the pain of a companion's cruel rejection, unjust accusations, and unpredictable rage.
Is there any hope? Yes! Follow the author's search for God's answers. Learn how she found real security, experienced the power of prayer, and the encouragement of Christian fellowship. Read about her struggles to apply the principles of submission and respect. Discover how she dealt with problems related to children, money, and physical intimacy.
93 pages -- paperback
Dimensions: 5.25" x 8.25"
ISBN: 0878135634
ISBN: 9780878135639
Copyright: 1996
Christian Light Publications
Link to this page:
http://www.anabaptistbooks.com/catalog/titles/30.shtml