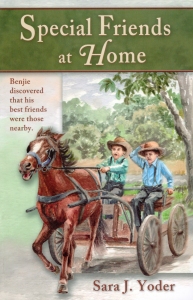 [an error occurred while processing this directive]
Benjie, a lively eight-year-old Amish boy, is a friend to everyone. He welcomes each new friend with respect, and each one becomes special to him. Benjie's friends will become your friends too, as you learn to know them in this book. You will learn about . . .
Mr. Brown's surprise.
Why the cobbler fixed a good shoe.
Danny's unusual sermons.
Why Elizabeth talked with her fingers.
Why Benjie missed Danny.
A fast pony cart ride.
Publisher's Note
Those of you who have enjoyed Sara Yoder's books in the Benjie series will want to read Special Friends at Home. While this book is not part of that series, it includes some of the same characters.
The Amish teacher who wrote this story based it on actual incidents from her personal experiences. She relates them to bless the hearts of children.
Children are shown developing meaningful friendships by extending impartial friendliness to all they meet. Parents will appreciate the way the author portrays loving, respectful, family relationships.
Although the setting of this story is Amish, the lessons it instills apply to Christian families everywhere.
210 pages -- paperback
Dimensions: 5.25" x 8.25"
ISBN: 9780878136438
Copyright: 2007
Christian Light Publications
Link to this page:
http://www.anabaptistbooks.com/catalog/titles/531.shtml