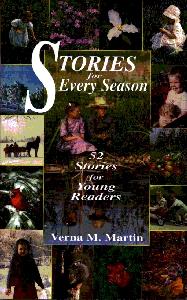 [an error occurred while processing this directive]
"To every thing there is a season," wrote Solomon.
The season for children's stories is always "in." What child does not come running when an adult asks, "Want a story?" And what parent or schoolteacher is not on the constant lookout for a new storybook with fresh adventures and healthy values?
Verna Martin has conveniently clustered these 52 stories around the four seasons of the year, one for every week of the year. She has drawn her stories from her parents and grandparents, from her children, from unforgettable acquaintances, and from her own life of faith.
These are stories with moral fiber. They will not only delight children, but nourish them in the process.
267 pages -- paperback
Dimensions: 5.25" x 8.25"
ISBN: 0878135642
ISBN: 9780878135646
Copyright: 1996
Christian Light Publications
Link to this page:
http://www.anabaptistbooks.com/catalog/titles/5.shtml