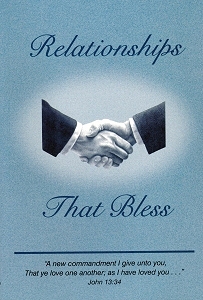 [an error occurred while processing this directive]
How important are human relationships?
Consider this: We can ruin our relationship with God by ruining our relationships with people. Relating to other people might seem complicated or even frightening sometimes. But God always has the right way for us when we seek and pursue His will in our relationships.
This book is dedicated to serious Christians facing the struggle of maintaining holy relationships.
Relationships That Bless can be a blessing to just sit down and read through. But it can also help when you need special guidance in relating to your family ... neighbors ... co-workers ... school ... church ... community. There is no human relationship God has overlooked. And there is no human problem for which we cannot find principles in His Word to direct us.
140 pages -- paperback
Dimensions: 5.5" x 8.25"
ISBN:
Copyright: 2004
Rod and Staff Publishers
Link to this page:
http://www.anabaptistbooks.com/catalog/titles/484.shtml