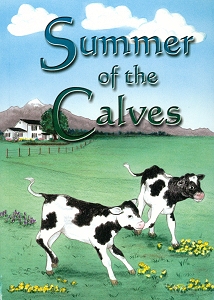 [an error occurred while processing this directive]
With only a small amount of land, Nelson's family cannot have much of a farm. But they can have calves! Then one day a policeman stops by and tells them otherwise.
Nancy, Joyce, Nelson, Robert, and Baby Carmen are the children in this happy Christian family. They share many learning experiences. On the very day that Nelson can hardly wait to go for the calves they are buying, neighbor Hugo detains Father. And what should they do when Joyce and Nelson cannot agree on what to name their calves? Nelson wants to call his calf Lassie, but Joyce protests that Lassie is a dog's name. Father hears and settles the argument, and Nelson decides on an unusual name.
Robert likes to find things that are matching. Baby Carmen must learn not to eat calf feed or seeds or garden dirt -- even though it means correction which hurts Joyce as much as it does Carmen. Nancy and Joyce help Mother cook the meals and do the housework. They find out how important such skills are when they see their neighbor lady go to work every day.
Godly parents set the example in this story, and the children learn by observation as well as being taught. Learn with this happy family as they follow God's way of submission, obedience, patience, and nonresistance to evil.
151 pages -- paperback
Dimensions: 5.4" x 7.75"
ISBN: 0739923595
ISBN: 9780739923597
Copyright: 2005
Rod and Staff Publishers
Link to this page:
http://www.anabaptistbooks.com/catalog/titles/472.shtml