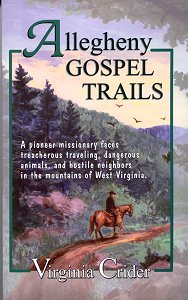 [an error occurred while processing this directive]
"You know," Rhine said thoughtfully, "I don't believe we knew what we were getting into when we accepted this assignment."
He was right. Rhine and Anna were used to the creature comforts of Scottdale, Pennsylvania. Were they ready for the rigors and challenges of ministering to scattered churches in mountainous West Virginia?
When the Benner family stepped off the ancient train that June afternoon in 1915 and looked uncertainly about, the mission board members watching from their surrey also wondered. "I doubt they'll last through the first winter," one of them said in a low voice, noting the new arrivals' fair skin and slender builds.
There certainly were challenges. A weekend circuit of preaching assignments could easily be twenty-five miles on foot, in all kinds of weather. Most of the roads were impassable by car, and at first the mission board couldn't afford a horse.
"We'd like to provide better conditions for you," the mission board member said, "but funds are low...."
That first night, they had only begun to learn what they would face. But they had faith in God, and they learned that, by His grace, they could make it.
This true story portrays Rhine and Anna Benner's love for God and for the souls of men and women. Their sacrificial service inspires and callenges us to greater faithfulness.
307 pages -- paperback
Dimensions: 5.25" x 8.25"
ISBN: 0878136215
ISBN: 9780878136216
Copyright: 1971, Revised 2005
Christian Light Publications
Link to this page:
http://www.anabaptistbooks.com/catalog/titles/446.shtml