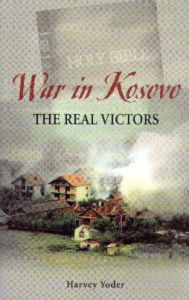 [an error occurred while processing this directive]
OUT
OF
PRINT
The Serbian soldiers became suspicious. Had they discovered a secret hideout of their enemy, the Kosovo Liberation Army? Was someone in this household involved in political activities? Instantly, they grew hostile, and rushed across the yard to the old house.
Their shouts erupted into the air as they ordered Besim's parents to open the door. Pointing their guns at the terrified couple, the soldiers marched them out of the house.
"Where is your son?" they screamed. Obviously these Serbs had seen a photo of Besim, and their suspicions made them determined to find him.
"He is not here," declared the frightened parents.
More shouting and abuse. More destruction. Then, with sinking hearts, the father and mother watched as the soldiers set fire to their son's new house.
The soldiers continued shouting, "Tell us where your son is! You will suffer for everything you have done!"
Flames shot from the house, and while the soldiers concentrated on completing its destruction, Besim's parents whispered to each other, "Where is he? Is he in the house?"
But they knew the answer to their own questions. Besim was in the new house. And now the house was burning!
The true stories in this book testify of the conflict in the Balkans, and the victory that Christians there gained in spite of suffering and loss.
"I am free from hate. I have the joy of the Lord in my heart instead. Jesus told us not to curse our enemies but to love them. I am no longer disturbed by what has happened because God has given me a new heart. It was through all this trouble that I found peace for my heart. Praise God for that!" --a man from Kosovo
137 pages -- paperback
Dimensions: 6.25" x 8.25"
ISBN: 1885270178
Copyright: 2000
TGS International (Christian Aid Ministries)
Link to this page:
http://www.anabaptistbooks.com/catalog/titles/236.shtml