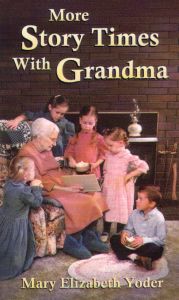 [an error occurred while processing this directive]
Story Time with Grandma
has been read and reread to tens of thousands of children. This sequel (as it were) offers more character-building stories from a grandmother.
Mary Elizabeth Yoder told many of these stories to her children as they were growing up. Stories about her children, stories from her own childhood, could-have-happened stories, stories of good times and bad -- all are about families and children and the important lessons they learned.
The next time your children ask for a story, you won't have to wonder what to read. More Story Times With Grandma will give you and your children a fresh selection of worthwhile stories.
Paperback -- 235 pages
Dimensions: 4.25" x 7"
ISBN: 087813591X
ISBN: 9780878135912
Copyright: 2000
Christian Light Publications