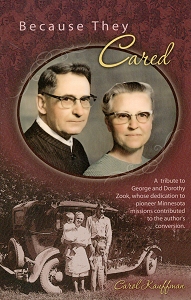 When the little town of Graceton, in northern Minnesota, became a fledgling mission's focus of attention, George and Dorothy Zook faced a tough decision. Would they be willing to move there? They looked at the challenges, and at the needy children and families of Graceton.
They went.
But going wasn't easy. Their new home required attention. A leaky roof, broken windows, and cracked plaster needed repairs. And heating a drafty house with uninsulated walls in sub-zero temperatures would take lots of wood.
They faced lonely days in a community where not everyone appreciated them. Making a living was a struggle too, and they cut corners to pay the bills. But George and Dorothy believed if they did their part, God would give them strength for the trials.
169 pages. Christian Light Publications. Carol Kauffman.
Published in 2009.
For more details as well as the option to buy: Because They Cared
Topics: New Products | Comments Off on Because They Cared
Comments are closed.