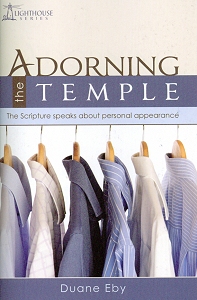 This booklet speaks on the important subject of personal appearance. The author opens with five foundational principles found in Scripture giving direction to this subject, followed by several pages outlining practical guidelines on how Christians should and should not dress.
The Bible speaks about personal appearance and in some cases gives specific commands in regard to appearance. It establishes a broad base of godly principles to guide us in dress matters. The Bible and our own observations teach us that our appearance projects an image, gives a testimony, and affects others. Our personal appearance is an essential part of our relationship with God and man. For this reason, we need to know what the Bible says on the subject.
32 pages. Christian Light Publications. Duane Eby.
Published in 2009.
For more details as well as the option to buy: Adorning the Temple
Topics: New Products | No Comments »
Comments