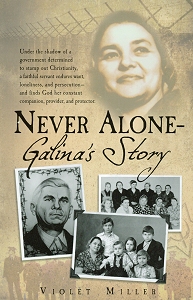 Galina's father was arrested when she was too small to remember. But her mother told her how she had waited by the tracks to meet him. When the train arrived, he was not on board. Galina grew up watching her godly mother's life of faith and seeing how God cared and provided for their family.
When Galina's husband Pavel was ordained, she remembered her father's imprisonment and her mother's hardships. She knew she and Pavel might well face the same trials. "I am Yours, Lord," she prayed. "I am willing to do whatever You call us to, and even to suffer for Your name's sake."
One day Galina had a visitor. "My dear sister, I have sad news for you."
Their worst fears had come true. Pavel had been arrested.
360 pages. Paperback. Christian Light Publications. Violet Miller.
Published in 2007.
For more details as well as the option to buy: Never Alone — Galina's Story
Topics: New Products | 2 Comments »
2 Responses to "Never Alone — Galina's Story"
Julia Says:
August 23rd, 2008 at 8:35 pm

One of the best, inspirational books. God Bless You

nancy Says:
August 12th, 2009 at 7:37 pm

such a good book! I couldnt stop readingit!!!

GOOD JOB VIOLET!!!
Comments