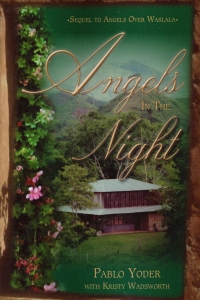 Night falls early in Waslala, and the dark evenings are long — especially if you're waiting….
They knew God had called them to Waslala, and had faith that He would protect them. But now that faith would be tested like never before….
During their first two years in Nicaragua, Pablo and Euni Yoder and their five children had endured more than a dozen robberies. Their trials had drawn them closer to each other and to God, but as the sun set, Pablo's usually rambunctious family still grew quiet and tense, and a vague foreboding subdued his own naturally boisterous spirit. The robbers would be back. It was only a matter of time.
In spite of the poverty and violence that surrounded them, a fledgling church was emerging, and a light, small at first but growing steadily, was piercing the darkness.
If you enjoyed Angels over Waslala, you'll surely want to read the sequel!
353 pages. Paperback. TGS International (Christian Aid Ministries). Pablo Yoder.
Published in 2007.
For more details as well as the option to buy: Angels in the Night
Topics: New Products | No Comments »
Comments