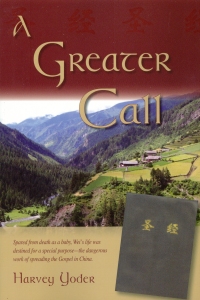 Another mouth to feed.
That's what Wei was. And in a land racked with famine, that was the last thing anyone wanted.
Spiritual famine also gripped China. The Communist government demanded loyalty and had ways of dealing with people who held other views. But to Chinese Christians, Jesus Christ was worth any sacrifice — position, family, friends, even life.
Few believers lived in Wei's rural village. His family was poor, and his prospects bleak. It would have been better, most thought, if he had never been born. And so he was left to die.
But God had a different plan. Though the journey would be long and the comforts few, Wei would one day answer to a greater call.
Spared from death as a baby, Wei's life was destined for a special purpose — the dangerous work of spreading the Gospel in China.
189 pages. Paperback. TGS International (Christian Aid Ministries). Harvey Yoder.
Published in 2007.
For more details as well as the option to buy: A Greater Call
Topics: New Products | No Comments »
Comments