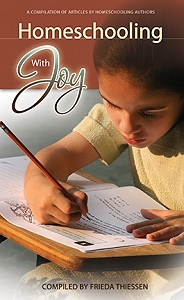 Serious home educators spend many hours of diligent effort to make their homeschools a success. They do it for the children. They do it for God. They plan; they prepare; they coach and teach; they pray; they struggle. And on top of that they still have all their other roles: bread-winner, homemaker, husband, wife, and more.
It's no wonder homeschooling sometimes becomes overwhelming. The once lofty goals grow dim and the focus turns to survival. If that's where you are, or what you want to avoid, Homeschooling With Joy offers encouragement and practical help.
201 pages. Christian Light Publications. compiled by Frieda Thiessen.
Published in 2010.
For more details as well as the option to buy: Homeschooling With Joy
Topics: New Products | No Comments »
Comments