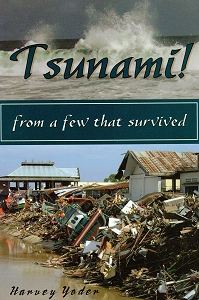 Purnama had barely gone a quarter of a mile before he saw a sight that burned itself in his memory. Coming down the street toward him was a crowd of people. A wall of waterborne debris, as high as the two-story buildings, was chasing the fleeing crowd. He stopped the cycle, and for a moment was frozen immobile at the incomprehensible sight.
Water? He heard the screams of the crowd. It did not look like water, but like a solid wave of cars, tin, and timbers being forced toward him with enormous pressure. A solid wave, yet strangely liquid. Spouts of water gushed out through the wave of debris.
Purnama tried to turn his cycle, but the wave was too swift. He had barely begun to speed away when the water reached him.
With a wild leap, Purnama left his drowning cycle and clasped his arms around a coconut palm. He tried to climb up the pole-like trunk as dirty water swirled around his legs…
In the true stores of this book, experience — in a small degree — a few of the horrors the people of Banda Aceh faced. The stores are mostly about Christians. Find out what believing in Christ really does for people who face a disaster. Some tell their stories with sorrow and heartbreak, others with joy and hope.
141 pages. TGS International (Christian Aid Ministries). Harvey Yoder.
Published in 2006.
For more details as well as the option to buy: Tsunami!
Topics: Featured Products | No Comments »
Comments